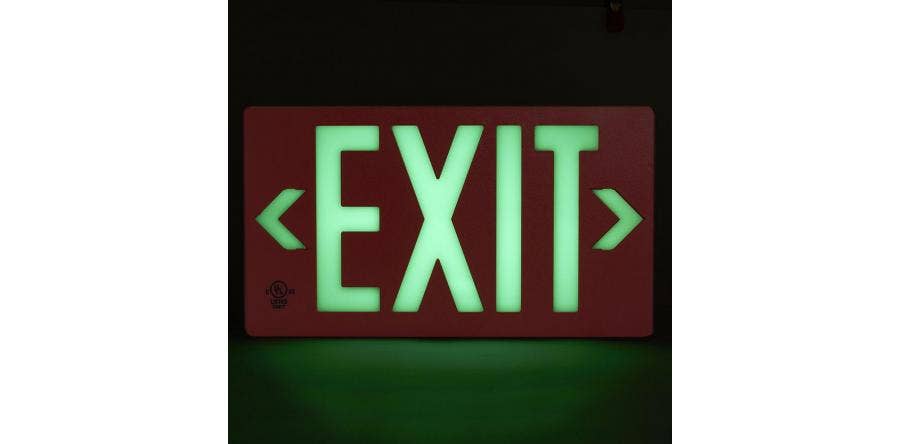 There are many different types of exit signs. Some of them serve slightly different purposes, some of them the same purpose but may or may not be in compliance depending on the location of your building.
Understanding the different types of exit signs and where (or where not) they are appropriate for use is an important part of keeping your building up to code and offering the best fire safety practices.
Exit Sign Technology
When it comes to how exit signs are powered there are a handful of popular options. Photoluminescent exit signs (also called glow-in-the-dark exit signs) are increasingly becoming a popular choice because they offer a non-electrical, eco, and budget-friendly option. LED is also a commonly used technology for exit signs.
No matter what technology you choose for your exit signs, you will want to make sure they meet local code requirements. You will also need to make sure they align with the regulations by authorities like OSHA, and NFPA. Failure to do so will not only result in possible fines but also
puts lives in danger.
Types of Exit Signs
There are numerous types of exit signs, specialty signs, basic emergency exit signs, and more. Do you need all these different styles of exit signs? Probably not. But it is nice to know your options and make sure you are offering the clearest, easiest to understand emergency exit signage in your building.
Running Man Exit Sign
Many countries have made the official switch to the running man exit sign. Australia and Canada now require the running man exit sign in buildings. While the NFPA hasn't made any plans to replace the American "EXIT" sign, many buildings are opting to put in the running man exit sign.
If you are considering changing over to the running man exit sign, you will want to make sure they meet certain criteria. Jessup Manufacturing's Glo Brite® running man exit signs are UL 924 listed and create clear, brightly glowing signage. And if you are in Canada make sure your signs are CAN/ULC S572 listed.
Exit Sign with Arrow
While the running man is a great example of what a picture can demonstrate, so is the exit sign with an arrow. Having an exit sign with an arrow immediately tells people what direction to go to the nearest exit.
You will want to make sure what exit sign with an arrow you choose for your building meets NFPA Life Safety Code requirements and that the words EXIT are at minimum si inches high (larger in some locations).
Green Exit Sign
Many say that the green exit sign is even more understandable than the ever-popular red exit sign. OSHA and NFPA both comment that as long as the sign is a distinctive color that is readily visible and contrasting with its background it is acceptable. Ultimately, if you want to go with the green exit sign you will also need to check with your local jurisdictions to make sure they allow it.
Exit Sign Experts
Jessup Manufacturing is a trusted expert in emergency exit and fire safety signage. Contact our team to discuss your emergency exit questions and requirements.