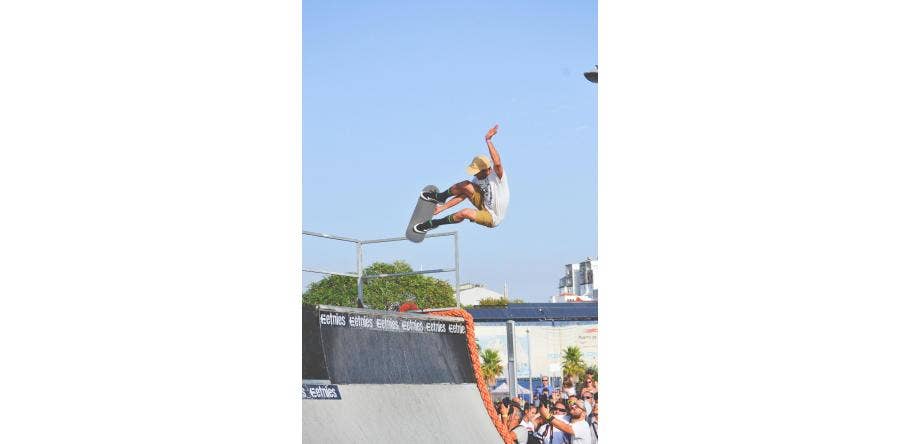 We know a thing or two about skateboarding at Jessup Manufacturing. Specifically how to help boarders prevent a nasty slip and fall with the use of Jessup's Griptape. We also know skateboarding is an extreme action sport that often gets misclassified as street sport geared towards rebellious, baggy-pants wearing young boys. However, the more you understand this sport, the more you will realize just how much hard work and structure goes into the art of skateboarding. You'll also begin to realize it is much more mainstream then you know- hence the USA Skateboarding joining the United States Olympic Committee (USOC) as of June 2018 and now being responsible for the selection, training, and fielding of U.S. national teams that compete in the Olympic Games and other sanctioned team events. With the new addition of skateboarding to the Tokyo 2020 Olympic games, no one is certain how the games will play out, but we are looking forward to watching the screen to find out. From how the athletes were picked to be on the USA team, to what to expect and how they are judged— we are giving you insight on the top things to know about skateboarding going into Tokyo Olympics 2020.
How was the USA Olympic Skateboarding Team picked (and who are they)?
Back in March, 16 men and women were announced to join the first-ever skateboarding national team. USA Skateboarding— the U.S. governing body for skateboarding— partnered with Toyota and Nike to create this team. The 16 skaters named made the national team based on performance in international level events throughout the previous year.
These 16 skateboarders will then be able to qualify for the Olympics based on their three best results in World Skate sanctioned events throughout the 2019 qualifying season in combination with their six best results during the 2020 qualifying season (September 16, 2019 – May 31, 2020). The 2020 World Championships will also be a direct qualifier for the games for the top 3 podium spots at each event.
The team consists of 8 male and 8 female competitors, and they will all be split evenly between the park and street events during qualifying for Tokyo 2020. However, they still need to qualify through their Street League or Park Series rankings so there are still no guarantees any of these skaters will compete at the Olympics. On top of that, only a maximum of 12 American athletes can qualify for the Olympics so expect the list below to be adjusted slightly come June 2020.
The Qualifying 16 Skateboarders Include:
Men's Street: Chris Joslin, Louie Lopez, Nyjah Huston & Jagger Eaton
Men's Park: Zion Wright, Alex Sorgente, Tom Schaar & Tristan Rennie
Women's Street: Lacey Baker, Alexis Sablone, Jenn Soto & Mariah Duran
Women's Park: Jordyn Barratt, Nicole Hause, Bryce Wettstein & Brighton Zeuner
What should you expect in the 2020 Olympic skateboarding competition?
Skateboarding has numerous disciplines within it, but the 2020 Olympic Games have chosen to focus on two of them—street and park skateboarding.
Street skateboarding is held on a course that is similar to (no surprise) a street. Curbs, benches, stairs with handrails and varying slope heights will take over the space for skateboarding to compete in. The street skateboarders love to get air in order to flip in their sets, so expect to see a lot of "ollies" (a trick where the rider and board leap into the air without the use of the rider's hands) and skateboard deck flips (when done well and with a quality skateboard deck grip tape, these flips make it seem like the boarder's feet are attached to the deck of the board). Street skaters will show off deck slides and trunk grinds (the trunk is the parts connecting the wheels and bearings to the deck of the skateboard) right on the street courses curbs and handrails.
Park skateboarding: For the Tokyo 2020 Olympics that will be using a hollowed-out course featuring a series of complicated curves – some resembling large dishes and dome-shaped bowls for their park competition. Competitors in park skateboarding are looking to get massive height, mid-air suspension, and speed. Viewers can also expect skateboarders to showcase their skills in maneuvering the deck of the skateboard. Skateboard grip tape is also an important piece of the puzzle for these skateboarders because without it their feet can easily shift which can cause a slip and fall accident.
The Olympic skateboarders will compete in Tokyo's Aomi Urban Sports Venue for both street and park skateboarding. The competition will take place throughout the entire duration of the Olympic Games, from July 24 to August 9, 2020.
How are the skateboarders being judged in the Olympics?
Judges for skateboarding will score the athletes on a number of different factors based around speed, difficulty, originality, timing, stability and the overall flow of the performance. Specifically, the ability to suspend in mid-air is one of the most important skills judges look out for throughout the entire skateboarding competitions.
In street skateboarding, each competitor performs individually and utilizes each section to demonstrate a range of skills, or 'tricks'. Skilled riders make difficult tricks like ollies, parallels and other dynamic, multi-dimensional flips appear easy, but they all require a high level of technique. Judging takes into account such factors as the degree of difficulty of the tricks, height, speed, originality, execution and the composition of moves, in order to award an overall mark.
The park course contains large "bowls" with steep curves from the center outward, offering the upper part of the incline either vertical or almost vertical. Skateboarders are judged on a variety of items, including their immense heights achieved by climbing the curves and difficulty of their mid-air tricks.
Skateboarders will be able to vary their tricks more in the park when the kicker ramp is used, which allows them to gain height. Difficulty and originality points depends on a variety of factors, including:
If and how they change their stance on the board
Whether the rider is grabbing the deck of their skateboard with a hand when performing mid-air tricks
Which part of the skateboard deck is grabbed?
Which hand is used to grab the deck and the posture of the rider while grabbing the deck?
Mid-air deck and/or body rotations
Another key part in judging both street and park is the rider's stance. The usual stance is called the 'main stance', but when a rider adjusts the position of the front leg during competition, this is known as the 'switch stance'. Judges will award marks for tricks performed with the main stance, but those performed with the switch stance will get higher marks as the degree of difficulty is increased.
What are potential injuries skateboarders face during a run?
Since its inception back in the 1940's, skateboarding has taken on the reputation as being a dangerous sport. In fact, it comes in at #8 on the most-injury prone sports list. In 2015, 125,145 people were treated in hospital emergency rooms after being injured skateboarding. More than half of those injured were ages 14 to 24, and about one-third were between the ages of 5 and 14, according to Injury Facts 2017, the annual statistical report on unintentional injuries produced by the National Safety Council. Wrists, knees, and elbows are common areas for riders to get breaks or sprains, especially when proper safety is not followed. And although falling never stops being part of the sport, when proper safety tips and gear is taken on by riders you can prevent a lot of these common injuries. Our top three tips to prevent skateboarding injury are:
Always wear safety gear: Even the most experienced riders (i.e.: Olympic skateboarders), will be the first to tell you that having safety gear is of the utmost importance. Get yourself slip resistance closed-toe shoes, a skateboarding helmet, properly fitted knee and wrist pads (at minimum) and skateboarding gloves are also available to help reduce the impact of falls (and you will fall!).
Do a board check before going out: No matter if this is your first or 500th time out on your board, never stop checking it before you go. Make sure the board you purchase is fit for your age and riding type. Boards for freestyle will be designed differently from those of speed skateboarding. Before heading out, make sure all the nuts and bolts are tightened and your skateboard grip tape is still in good working order.
Practice falls and fall smart: As we mentioned, you will fall no matter how experienced you are in skateboarding. It's just part of the sport (and gravity!). If you have the right safety gear on and a properly made board, you have won half the battle. The other half is to actually practice falling safely. Skateboarders have common fall methods like falling, bailing and slamming. By working on how to fall on your knees you can help soften the blow (because you will have your knee pads on). When you practice rolling out of a fall you will also be able to distribute the force of the fall which can help in preventing additional injuries.
It has been great to see skateboarding evolve over the years and finally make its way to the Olympics in 2020. Nothing is ever the same from one skateboarding run to another, so it always makes for entertaining performances.
We can't wait to watch Team USA compete in the Tokyo Olympics 2020 this upcoming summer!