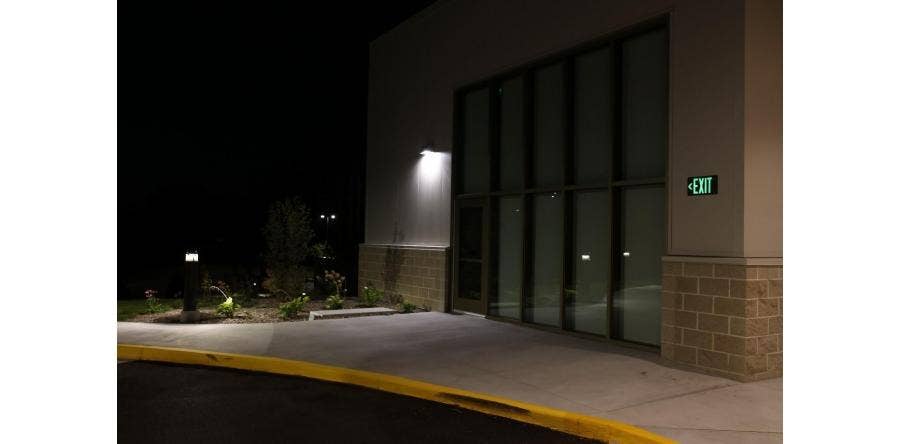 Wet location exit signs require a specific design and must meet certain requirements from various authorities, including state and local codes, in order to be approved for use. That is because these signs could get wet from condensation from things such as an air conditioning unit, or saturated from rainfall, snow, or other elements. Obviously, these exit signs cannot rely on a power source that is derived from a cable or outlet. This means one of the main requirements for wet location exit signs is to be either battery operated or able to store ambient light as energy for later use. Previously, this could be an extremely expensive investment for building owners to implement, but as exit signs have evolved, so have the options and costs.
Locations Requiring Wet Location Exit Signs
Wet location exit signs and egress systems are required for any indoor or outdoor location that can produce condensation or become wet from weather or other elements (such as spray from hoses). Depending on your state or city, they may be required in places you wouldn't normally consider, so it is important to review your specific location's rules and regulations to make sure you comply and don't get hit with a fine. A wet location is generally defined as an interior or exterior location in which water or other liquids may drip, splash or flow on or against the exit sign.
Here is a list of some of the top locations that require wet location exit signs:
Open Air Decks or Patios | Uncovered Porches | Outdoor Dining Areas | Exterior Walls | Water Vessels | Shower Enclosures
Locations that often get overlooked are indoor locations in which sprinkler systems could hit the exit signage during a fire. Be sure to review your building requirements and sprinkler systems to see if wet location exit signs are required. It could end up being a very costly mistake to have an electrical exit sign in place when sprinkler systems go off or the signs accidentally get sprayed with water!
Complying With Wet Location Exit Sign Requirements
The world of exit safety signage is massive. Consider all the locations you find an exit sign in that could be hit by the elements of wet weather or any other liquid or condensation. From parts of hotels, parking garages, cruise ships, and dining establishments… you get the idea. As the exit sign and safety industry continues to evolve, the regulating authorities including Occupational Safety and Health Administration (OSHA), National Fire Protection Association (NFPA), Joint Commission on Accreditation of Healthcare Organizations (JCAHO), International Building Code and International Fire Code and the way these products are engineered and installed has offered change for the better and new options to the market.
That means that complying with wet location exit sign requirements no longer needs to be a headache or strain on the bottom line. Even in New York City, which upholds some of the strictest guidelines for exit sign and egress systems, you can now find plenty of cost-effective options to choose from to meet wet location exit sign requirements. Underwriters Laboratories (UL) is an independent product safety certification organization that tests exit signs and gives them a rating. Reviewing the UL listing can help you choose the most appropriate exit signs for your needs, from dry to damp or wet locations. Besides ensuring the UL listing is UL 924 listed, some other indications you will also want to make sure the exit sign upholds to meet wet location regulations include:
Additional guidance regarding wet location exit sign requirements is provided by reviewing the various regulating authorities' codes. For example, within the 2015 edition of NFPA 101 Life Safety Code section 7.10, it states numerous requirements to be aware of when choosing a wet location exit sign. One of these requirements is that externally illuminated signs require a level of illumination of not less than five foot-candles (54 lux) at the illuminated surface and a contrast ratio of not less than five-tenths (found in NFPA 2015 edition, Life Safety Code, section 7.10.6.3).
Wet Location Exit Sign Technology
Photoluminescent technology, fluorescent and LED light technology are all options for wet locations in need of exit signs or egress systems. Jessup Manufacturing offers an indoor/outdoor photoluminescent exit sign that can be used in wet locations—Glo Brite® PM 100. This photoluminescent exit sign is designed to be applied to any location, including wet or damp locations or areas exposed to harsh elements and temperature changes. Photoluminescent technology has specifically increased in popularity for exit signage and egress systems throughout the past couple of decades and for very good reason.
Photoluminescent technology has been used for decades across the pond in Europe and started to become more widely used in the United States after the 1993 World Trade Towers truck bombing. In fact, given its impact in the 9/11 tragedy and other unrelated incidents, New York City passed New York Law 26 in 2004, which mandated the use of this technology in all buildings more than 72 feet high. The International Building Code and International Fire Code were also updated in 2005 to require the use of photoluminescent technology in new and existing high-rise buildings.
Photoluminescent materials for safety and rescue products have now been required since 2011 in the maritime industry via the
International Convention for the Safety of Life at Sea
.
Photoluminescent exit signs also provide an immediate return on investment – a fact that competing wet location exit sign and egress products cannot promise. Photoluminescent exit signs contain phosphor, which consists of rare earth elements that are found in mixed geological deposits throughout the world. Phosphor particles can absorb, store, and then emit light at a later time whenever they are exposed to light. Long-persistence phosphor (LPP) is an emerging subset of this, which can emit light for a much longer period of time, acting like a sponge by absorbing and holding the light energy, slowly releasing it to provide illumination over an extended period of time. These phosphors can be added to ink, dye, paint, coatings, and plastics to create low-maintenance, no-hassle safety solutions- including wet location exit signs and egress systems. According to the U.S. Department of Energy, photoluminescent exit signs are the most energy-efficient exit signs available on the market today.
Another bonus of using photoluminescent technology for your wet location exit sign option is that this type of exit is extremely simple to install, maintain, and obviously requires zero electricity to operate- making them suitable for even the wettest of locations. This means you will not incur the additional labor and electrical costs associated with the installation of other exit signs and you can be worry-free about the safety of your guests. With no bulbs to replace with photoluminescent exit signs, once installed they are easily maintained for 25+ years. This increased reliability protects against potential life safety hazards even beyond being wet that could result due to the lack of maintenance for electric exit signs.
If your business has some outdoor or indoor component that has the potential to become wet, a waterproof wet location emergency exit sign is essential and required by law. Remember to review your specific city and state rules and regulations to make sure you comply fully and meet the proper requirements. To recap, some of our quick tips for wet location emergency exit signs are:
-Any location that can get hit with liquid needs a wet location emergency exit sign… and don't forget sprinkler systems!
-Choose a wet location emergency exit sign that is UL 924 listed specifically for wet locations.
-Make sure it meets all building code requirements and that it meets or exceeds safety standards set by the International Fire Code and the International Building Code.
Consider photoluminescent emergency exit signs for wet locations (such as the Glo Brite® PM 100) as they are rated by almost every safety and hazard prevention organization as the best method of implementing safety signs available on the market at the present time.