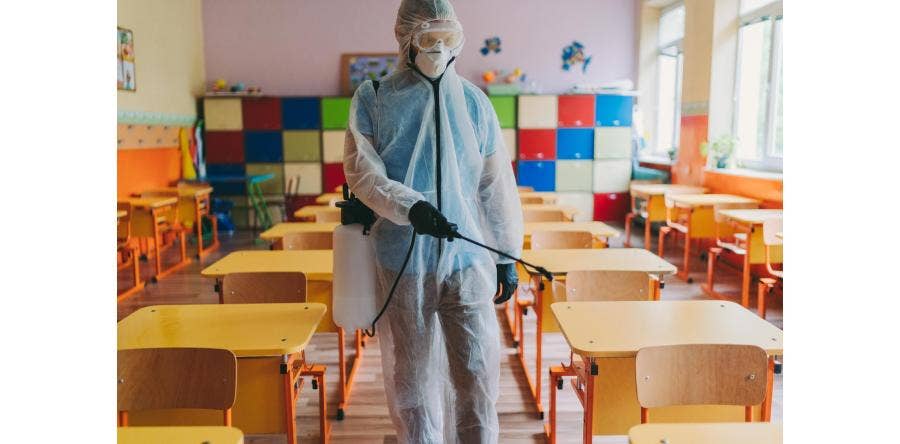 Keep Staff and Students Safe This School Year by Promoting Social Distancing
Keep everyone safe this back to school season by promoting social distancing guidelines. Jessup Manufacturing offers a variety of graphics media made to promote social distancing and proper sanitizing guidelines. Decals are completely customizable, withstand thousands of footsteps, and can be used on multiple surfaces such as floors, walls, countertops or mirrors.
4 Common School Applications Include:

Interior Floor Decals: Encourage students, staff and visitors to maintain a safe distance, provide directional guidelines, or other information with interior floor decals. with social decals. Popular locations for these durable, scruff resistance decals include lunch room floors, outside of bathrooms, sidewalks, or hallways. Certified to NFSI standards, these floor decals prevent slip and falls and are easy to clean.
Bathroom Mirrors: Remind those using the bathroom to wash their hands and keep their face masks on at all times. Decals can be customized to any shape and leave minimal to no adhesive residue when removed.
Desktops and Office Countertops: Add additional graphics to desktops to offer reminders to avoid touching your face, not to touch other students materials, or other important information. Decals are highly durable, can easily be cleaned, and will not damage the surface.
Sidewalk Decals: Using Jessup Sidewalk media outside the building will prepare staff, students and visitors before they enter with reminders of social distancing and face coverings. Consider using sidewalk decals for school bus lineup, around the entrance of the building, or any places where gathering may occur.
Providing everyday safety with personal distancing messaging for staff and students doesn't have to be complex.
Jessup Manufacturing continues to be the leader of adhesive films. Working with your school, we can create the best social distancing solutions with our variety of films. Our extensive product line up offers floor, glass, and wall graphics that can be used both inside and outside. These graphics will allow your staff, students and visitors the information they need to properly maintain social distancing guidelines and keep your school safe. Contact our team to discuss your